The Best Dumpster Rental Towson Customers Can Depend On
For the #1 dumpster rental Towson customers can rely on for residential and commercial use, choose the professionals at 86Dumpster to help you get the job done right the first time! Whether you're embarking on an extensive garage decluttering project or managing a new development site, we're confident we have the convenient and cost-effective selections that will solve your short or long-term waste management issues.

Proudly delivering across Towson, Maryland, and the surrounding areas of Harford County, we've made a name for ourselves as the premier choice for efficient, trustworthy, and affordable roll off container providers. As a locally owned and operated company, we cherish our relationships with our customers above anything else, so we strive to exceed expectations with unbeatable options for a dumpster rental Towson can count on to help meet a range of project goals, timeframes, and budgets.

Whatever your needs are for a reliable dumpster rental Towson homeowners, contractors, and business owners use year-round, we're here to help guide you through our straightforward booking process. Use our online scheduling system to rent a dumpster Towson counts on for indoor or outdoor projects or give us a call at (443) 671-1850 to speak with one of our friendly team members about your options today!
Why Choose Us for Your Towson Dumpster Rentals
We're confident we're the best Towson dumpster rentals provider that will meet your specific project goals because we've spent years perfecting our craft and fine-tuning the most important aspects of our business: reliable rentals that are easy to book at cost-effective rates with friendly customer support. We care deeply about our customers and understand we're an integral part of the success of their various projects, so we work diligently to offer a range of container sizes that will help meet the needs of residential or commercial objectives.

We work directly with industry-leading, well-respected manufacturers and carry heavy-duty containers that can manage a range of waste in an efficient and safe way. Our easy-to-load Towson MD dumpster rental makes disposing of waste a stress-free and straightforward process. Just load up the bin, give us a call when you're finished, and we'll haul it away in no time. It's that easy to manage the mess and let us handle the heavy lifting so you can focus on more important aspects of your home, business, or work site.

Getting started with our experienced team is effortless. Click the orange "Book Now" button in the top right corner to view our expansive size options and find the best Towson dumpster rental to meet your specific project goals. If you have any questions about our services or selections, don't hesitate to give us a call at (443) 671-1850 to discuss your options with one of our helpful crew members and get started today!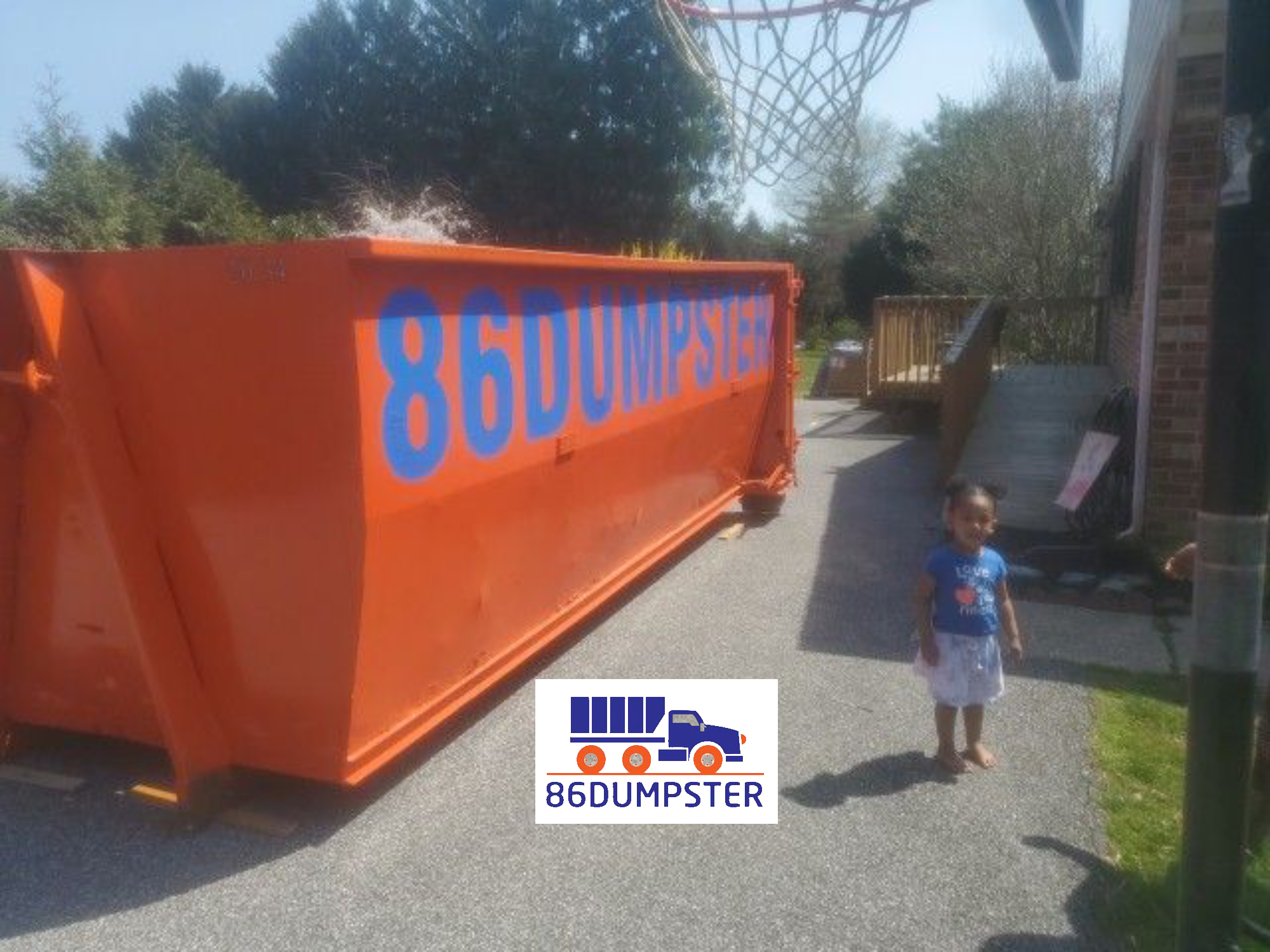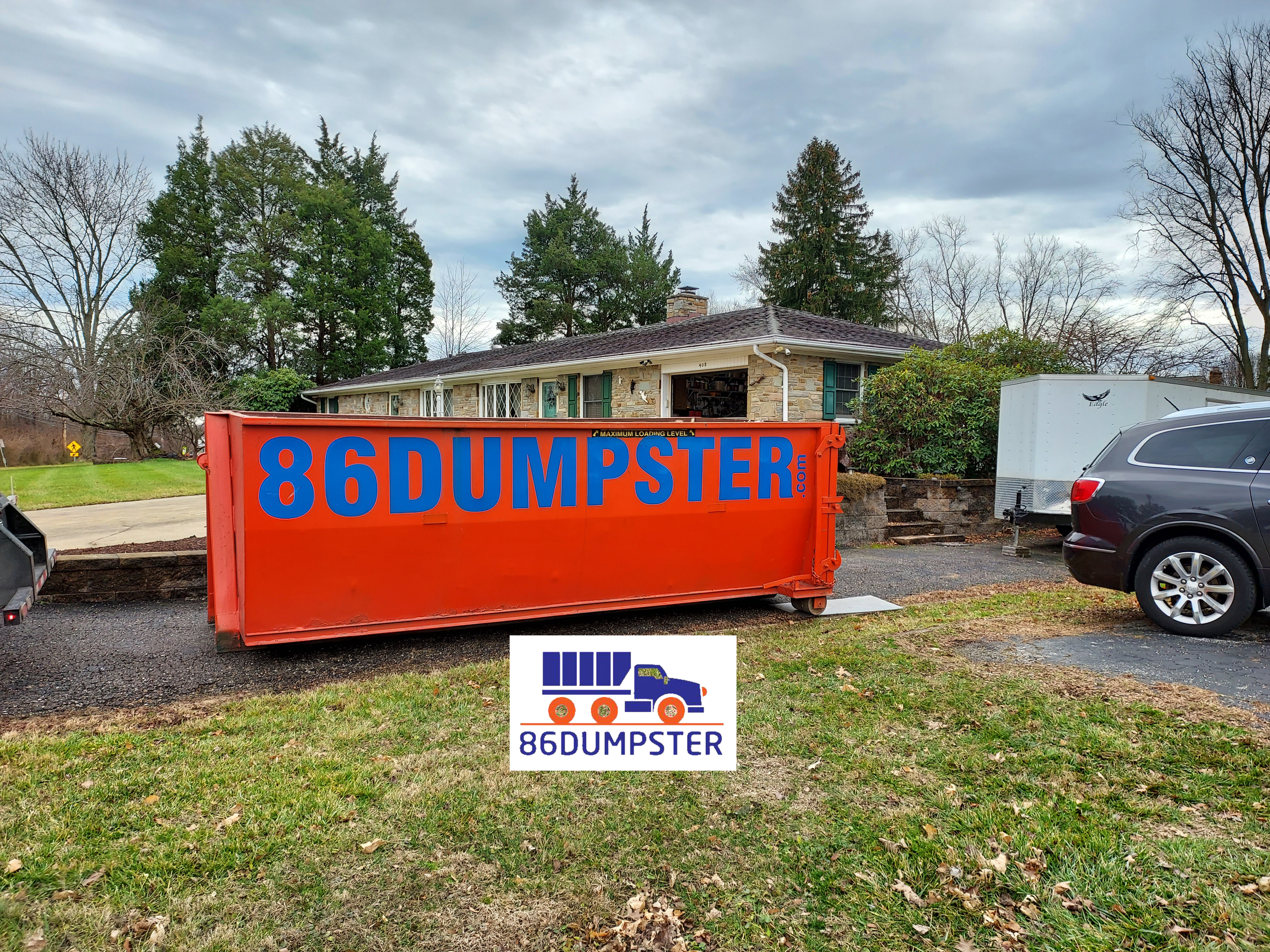 Book a Dumpster Rental Towson MD Residents and Contractors Use for All Projects
Reserve one of our options for a dumpster rental Towson MD residents, contractors, and business owners trust to meet a range of project goals. Whether you're preparing to downsize and need to remove broken furniture or are managing a roofing replacement project, we're confident we have the ideal container size to help you complete your project in a timely, affordable, and convenient way.

We regularly work with a range of budgets, timeframes, and objectives, and always aim to make our customers' lives easier with well-informed support, guaranteed on-time delivery, flexible scheduling, and versatile sizing options that can handle any scale or scope of a project. We offer dumpster rental prices Towson MD customers appreciate along with expert drop-off, paying special attention to your property or work site. We make it a goal to leave properties cleaner than we found them and our experienced drivers always pay special attention to mailboxes, driveways, residential streets, and other objects during the delivery process.

We partner with Harford Waste Disposal Center to ensure all waste is disposed of ethically and resourcefully in accordance with city, county, and state regulations. We make booking a dumpster rental Towson MD uses for an endless amount of projects as easy as possible, so get in touch with us or use our online scheduling system to reserve your roll off container today!
Residential Dumpster Rental in Towson MD Homeowners Trust
aHomeowners use our dumpster rental in Towson MD to meet a range of indoor and outdoor residential projects in an affordable and convenient way. Whether you're starting a hands-on home improvement project in your master bathroom or are finally tackling that ever-growing pile of clutter in the basement, we're confident one of our roll off containers will make a beneficial addition to your upcoming project.

We regularly deliver our dumpster Towson city homeowners can depend on for garage, attic, or basement cleanouts, landscaping, outdoor repairs, downsizing, hoarding cleanups, estate sale preparation, appliance or furniture removal, single-room renovations, and so much more. Whatever your needs are, we're here to help so get in touch with us or book your roll off using our website today!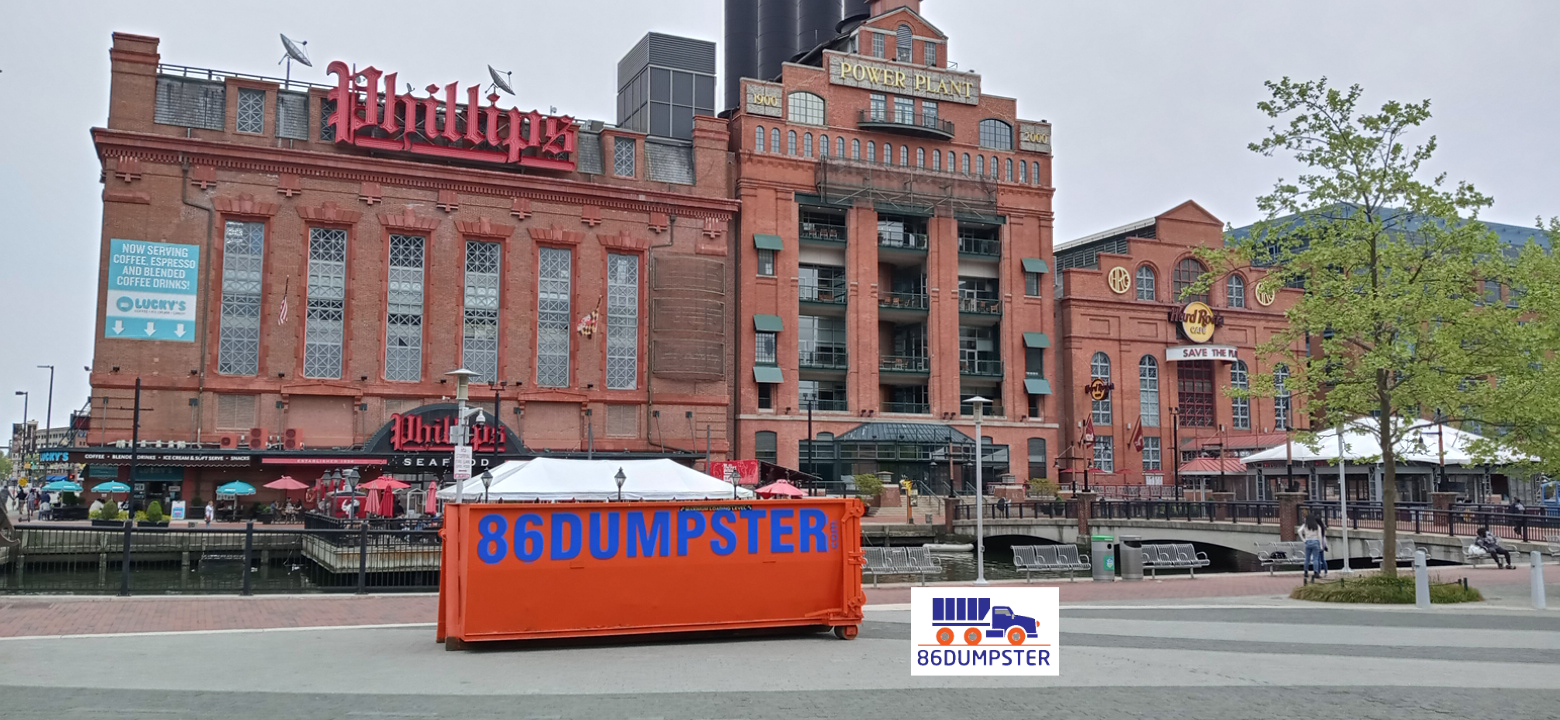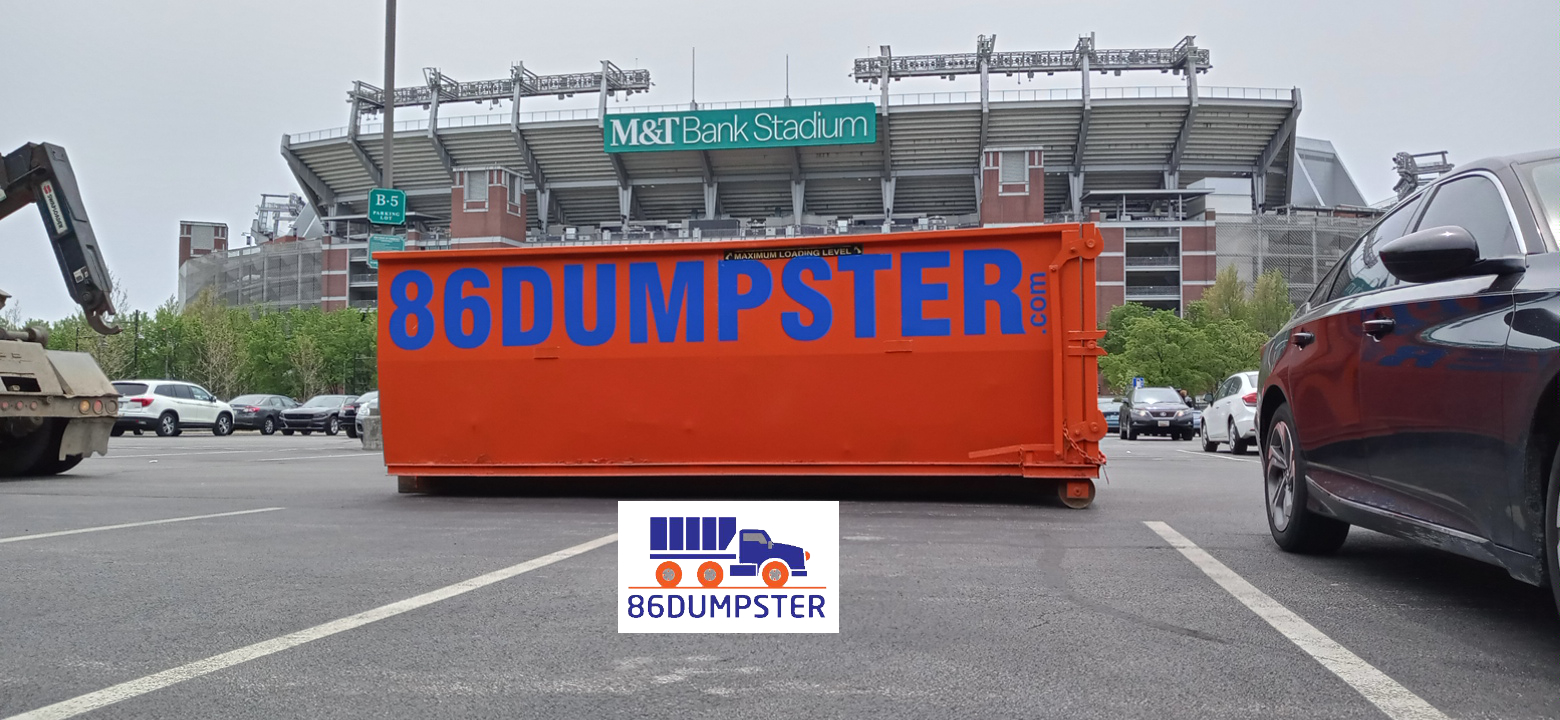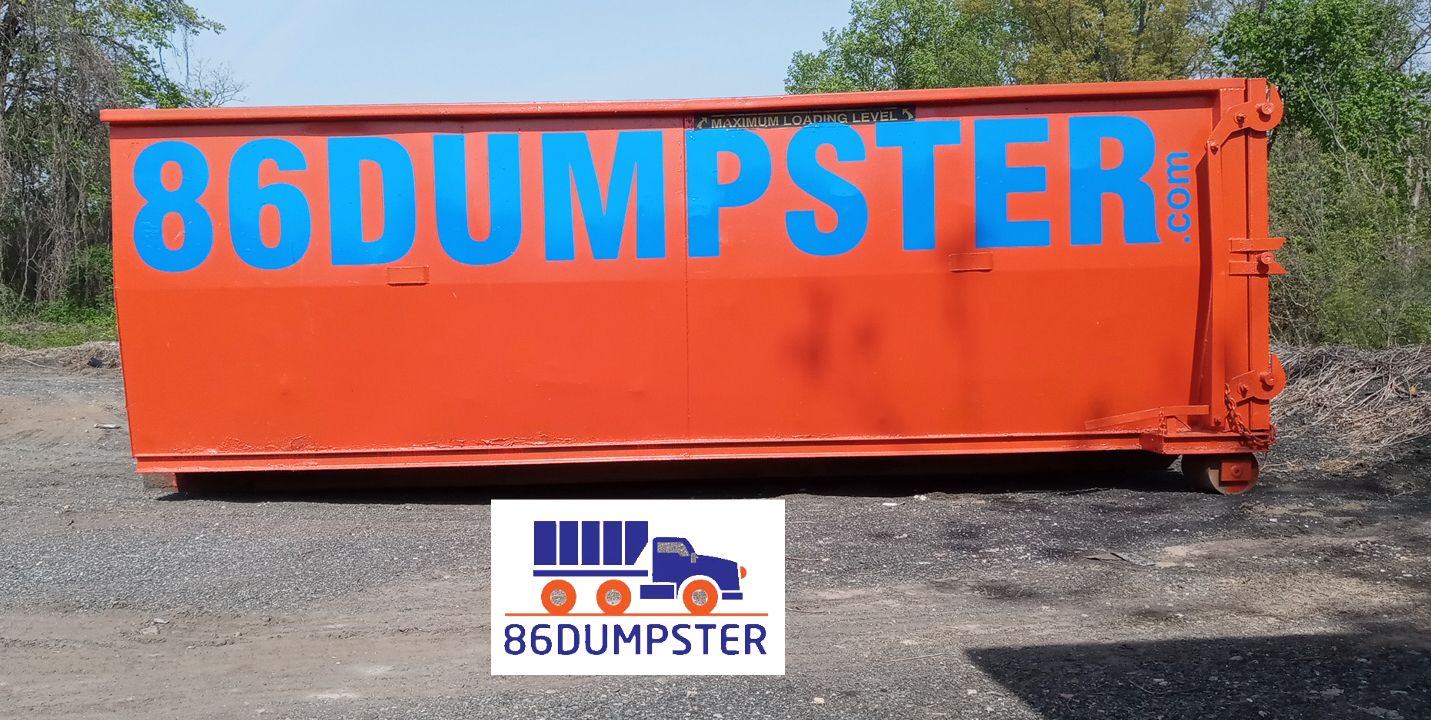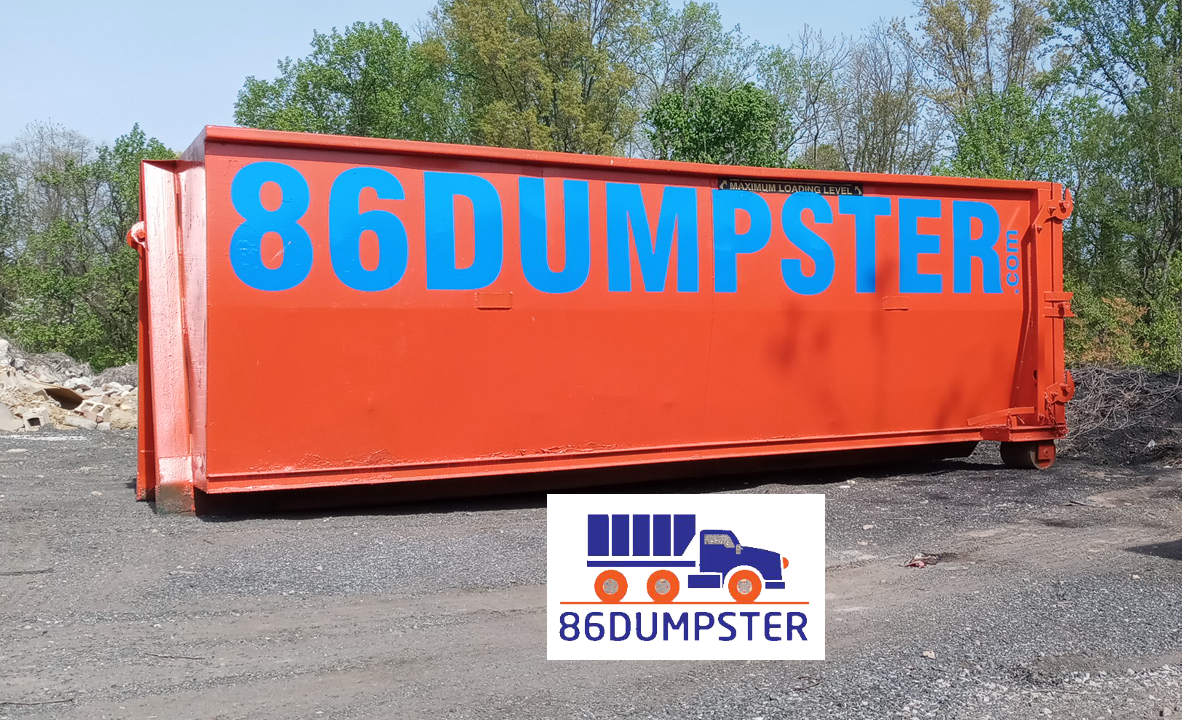 Dumpster Rental in Towson City for Yard Waste
Residents use our dumpster rental in Towson City for a range of outdoor yard projects including landscaping, gutter cleaning, roofing repairs, gazebo or deck build-outs, cleaning up debris after a storm, and more. Our heavy-duty and durable containers are equipped to manage a range of yard waste including brush, tree stumps, limbs, lawn clippings, roofing or construction materials, lumber, and more.

When the traditional garbage bin just won't cut it, call on our team to deliver a budget dumpster rental Towson MD homeowners rely on to help clear out the yard and increase their curb appeal in one fell swoop. Whatever your outdoor project goals are, we're positive we have the solution to your waste disposal problem, so give us a call or book online today.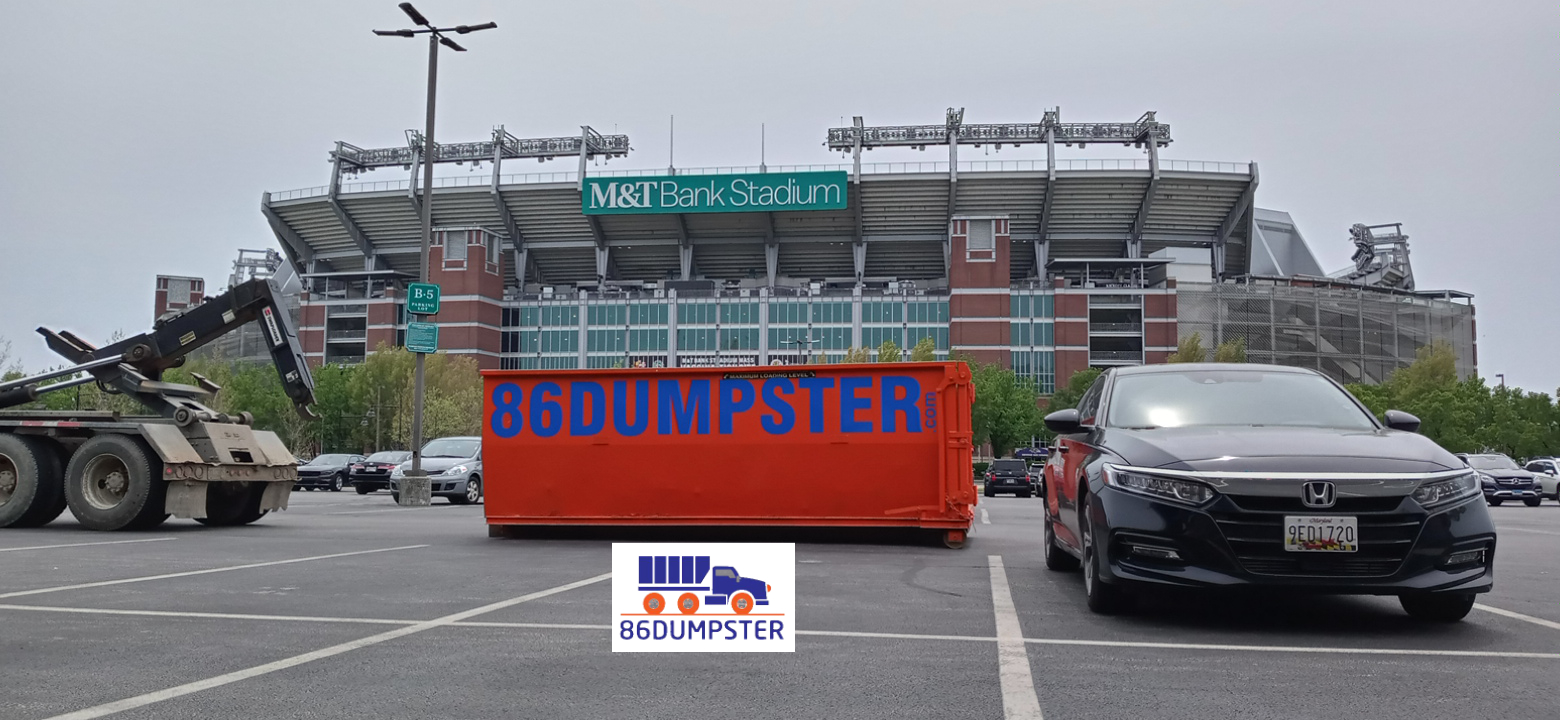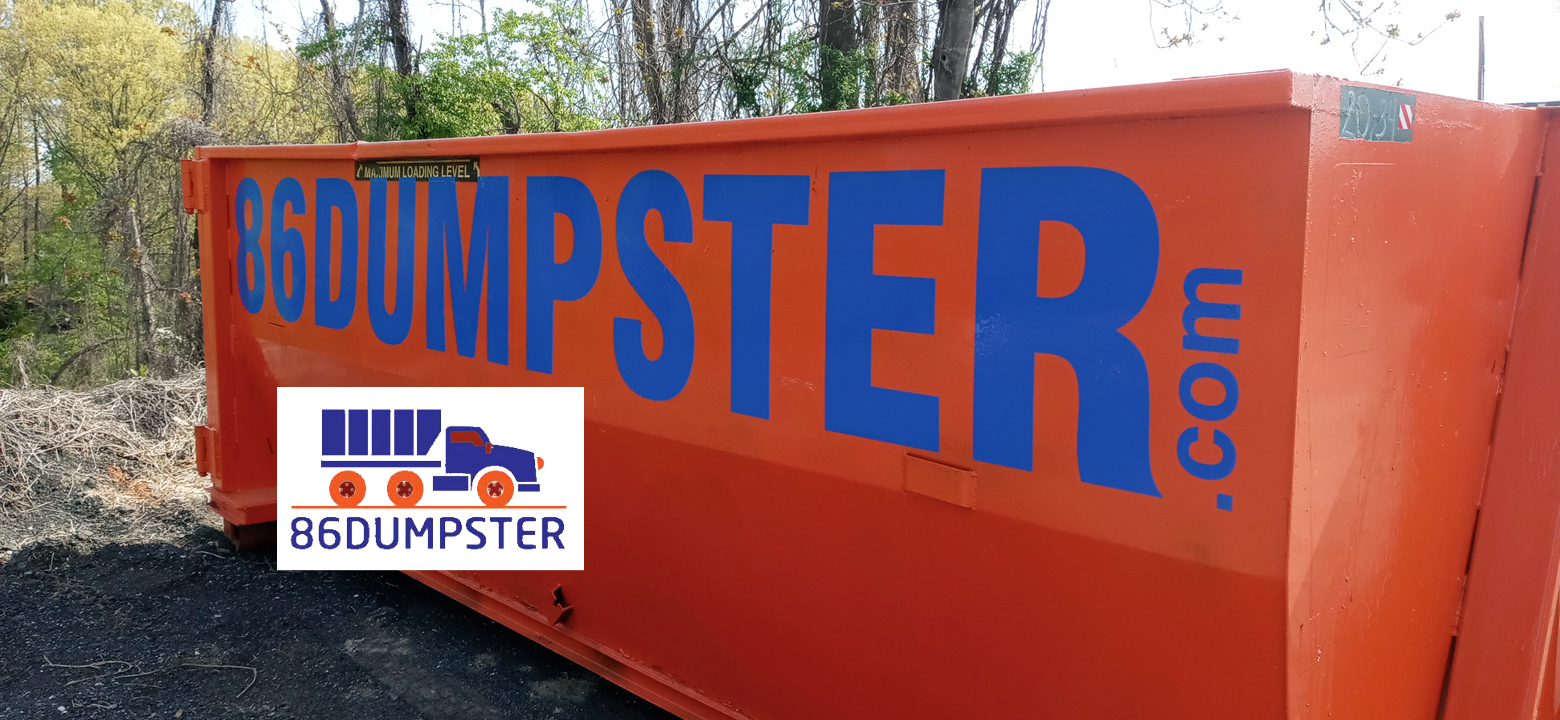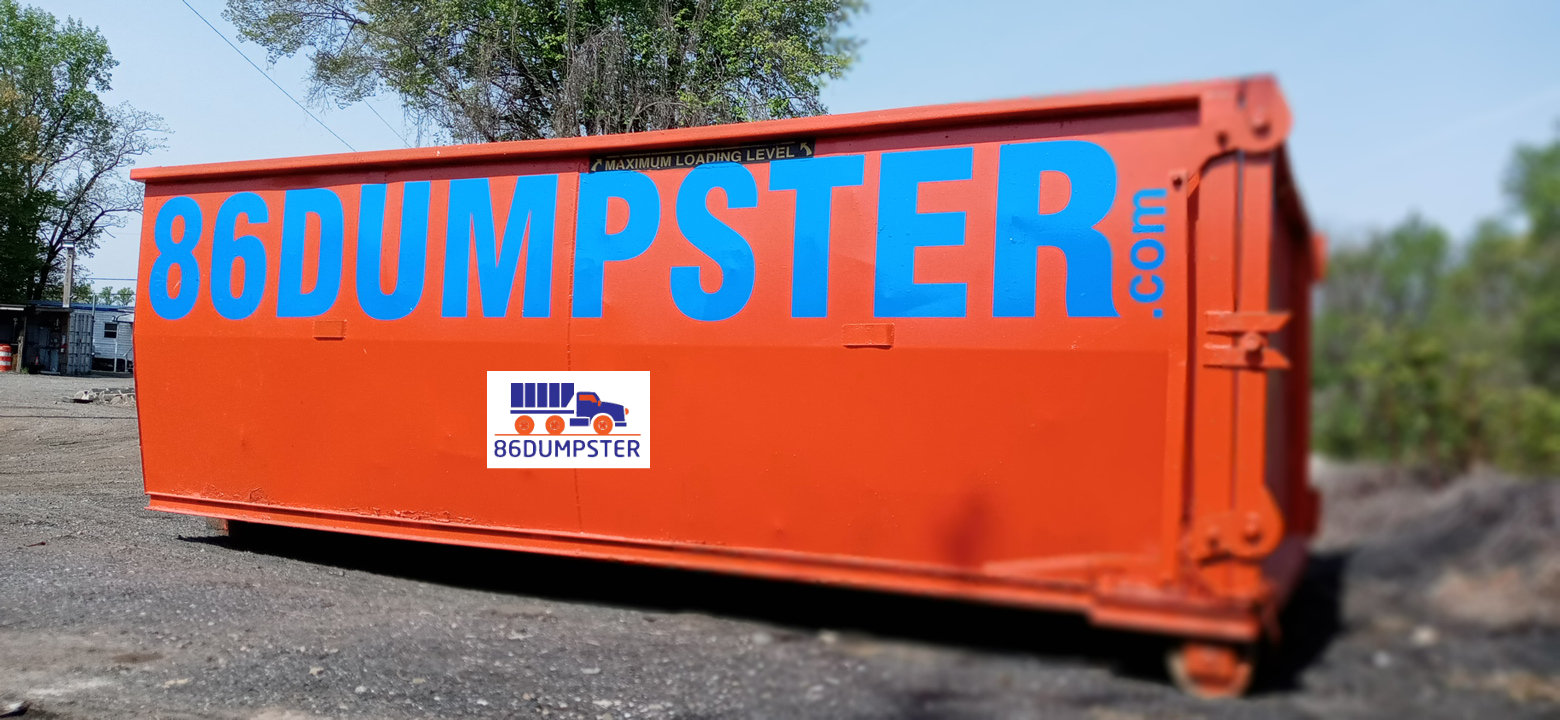 Roll Off Dumpster Rental Towson MD Contractors Choose to Have On-Site
For the best roll off dumpster rental Towson MD contractors can trust, choose 86Dumpster to provide a competitively priced solution to your short or long-term waste management needs. Whether you're in a bind and need a roll off ASAP or are in the early stages of planning a new development, we have countless options to best suit your project goals, timeframe, and budget.

Our industrial-grade containers are equipped to haul away a range of construction waste including lumber, piping, plastic, drywall, shingles, and more. We regularly provide a construction dumpster rental Towson MD contractors appreciate because of our easy scheduling options, flexible delivery, and affordable range of sizing options. Whether you're on-site and need a roll off to help manage the influx of waste or just want to learn more about your options, give us a call or book online today.
Roll Off Dumpsters Towson Construction Professionals Use for Roofing Jobs
Get your roofing job done in no time at all with the support of our roll off dumpsters Towson contractors choose to help complete a range of small or large roofing projects. Whether you're repairing the roof of your own home or managing a roof replacement, we're positive our vast selection of container sizes will be a useful addition to your work site.

Our heavy-duty roll offs are built to haul away a range of roofing materials including shingles, lumber, tile, metal, nails, and more. Whatever the scale or scope of your project, we have the solution to your waste disposal needs and will deliver your container in a timely, convenient manner to help support your project goals.
We Take Just About Everything
Some examples of the junk we haul away include
Refrigerator Disposal

Garbage Removal

Mattress Disposal

Foreclosure Clean Outs
Construction Waste Removal

Yard Waste Removal

Trash Removal

Appliance Removal
Television Disposal & Recycling

Furniture Removal

E-Waste Disposal

Hot Tub Disposal
Reliable Commercial Dumpster Rental in Towson MD
Business owners and managers use our dumpster rental in Towson MD to keep their commercial spaces waste-free and enjoyable for their customers, employees, guests, residents, tenants, and other visitors. Whether your manage an apartment complex and are looking for ongoing waste management support or need help hauling waste for a foreclosure, we're available to help guide you through your options and make sure you have the proper tools to maintain a clean and healthy working environment.

We regularly partner with hotels, retirement facilities, apartment complexes, restaurants and bakeries, office parks, retail shops, and other commercial spaces to ensure their waste is managed in an affordable, environmentally-conscious, and convenient manner. As one of the best dumpster companies in Towson, we take great pride in nurturing our relationships with business owners and helping to foster a sense of community within industries by offering premium services at affordable rates. Book your dumpster online today and get started working with our invaluable team!
How to Book a Dumpster in Towson
When you're ready to book a dumpster in Towson, we make the process as simple and straightforward as possible. There are two convenient options for reserving your rental and getting started on your residential, commercial, or construction project as quickly as possible: give us a call or use our helpful online scheduling system.

From any page of our website, click the big orange "Book Now" button in the upper right corner to view our selection of container sizes. This page will provide a brief overview of each container including dimensions, rental period, tonnage included, and pricing. Once you've found the perfect fit for your project goals, click the "Book Now" button next to the price point.

If all of the specifications look good for your project, click the "Add to Cart" button, select your project type, and choose your drop-off and pick-up dates. At this point, you can continue to add a dumpster in Towson to your cart or checkout. If checking out, input contact and billing information, delivery details, and any other information you'd like our team to know before you finish the process to rent a dumpster Towson MD trusts for all of their projects. Input credit card information using our secure system and finish the checkout process. You'll receive a confirmation email from our team once your payment is submitted and someone from our staff will be in contact with you leading up to the date of your rental to decide on a drop-off window that works best for you.

It's that simple to book online with our user-friendly scheduling software, but if you'd prefer to speak directly with one of our team members to receive a custom quote or go over your options, feel free to give us a call at (443) 671-1850 to discuss our selections and services today!
Sizes and Prices of Dumpsters Towson Customers Rate 5-Stars!
Our variety of dumpsters Towson customers can rely on offer support for all of your residential, commercial, or construction needs. Take a look at our selection below and get in touch with us if you need more guidance about which roll off will be the best fit for your project goals and expected amount of waste.

10 Yard: Perfect for smaller residential projects like landscaping or small bathroom renovations, our 10 yard is approximately 12' long by 8' wide by 4' high. This container can haul up to two tons and is ideal for garage cleanouts, roofing jobs of up to 1,500 square feet, and small kitchen remodeling. This rental begins at $365 for up to seven days of rental time and includes one ton of waste.

15 Yard: Able to haul away up to three tons, our 15 yard is a great fit for household projects or smaller construction jobs. Measuring 10' in length by 8' in width by 5' in height, we often rent out this container for larger kitchen remodels and full estate cleanouts. This rental begins at $425 for up to seven days. We also offer a special 15 yard rock and dirt container for $550 for up to three days of rental time and 12 tons included.

20 Yard: Beginning at $480 for an up to ten-day rental, our 20 yard measures 18' in length by 8' in width by 7' in height. The swinging doors allow for easy, safe, and convenient loading. This size is ideal for large-scale cleanouts, construction projects, and deck removals of up to 400 square feet and can haul up to four tons.

25 Yard: With up to four days of rental time and 1.5 tons of waste included, the "Weekend Warrior" option measures 16' long by 8' wide by 6' high and

30 Yard: Our largest container option measures 22' in length by 7.5' in width by 6' in height and rents beginning at $525 for up to ten days. This is a great fit for most industrial, demolition, or construction projects and can haul up to six tons.

Along with our traditional roll off containers, we offer heavy equipment rentals to help you complete a range of projects. Our bobcat rental begins at $450 for a half-day use and includes a professional operator. This rental is available with a dumpster rental only. If you need assistance loading or hauling your junk, we're here to help! For $60, two of our employees will load any waste or junk from your garage, basement, home, or curbside. Currently, this curbside service is available to residents of White Marsh and the nearby areas of Bel Air, Towson, Dundalk, Parkville, and Baltimore. Please give us a call at (443) 671-1850 to book this service.

We're confident we have the dumpster rental cost Towson customers will choose again and again because our value matches our services and selections. Additional tonnage and rental days are available for purchase if you need more time or have more waste to haul than you originally anticipated. If you'd like to request a custom quote for your particular time frame and waste hauling needs, give us a call at (443) 671-1850 to go over your options today.
Helpful Towson Dumpster FAQs
If you have questions about Towson dumpster options, we have answers! We understand there are many factors to consider when choosing the best waste disposal provider for your upcoming projects, which is why we've compiled a helpful list of frequently asked questions for you to browse at your convenience. Take a look below and let us know if you have additional questions before reserving your rental today!

1) How much does it cost to rent a dumpster?

Our prices vary based on the size of the container, rental period, and tonnage being hauled away. Our 15 yard begins at $450 for up to seven days of rental time, which is usually ample time to complete a range of waste hauling projects, but additional tonnage and days are available for purchase as well. We understand many people are searching for a cheap dumpster rental Towson can count on, but along with affordable rates, we prioritize high-quality containers, friendly customer support, and on-time delivery to help make the process as smooth and convenient as possible.

2) What is allowed to be loaded into the containers?

Our roll offs are built to transport a range of waste including general construction, landscaping, residential, and commercial garbage. Hazardous materials are NOT permitted in landfills and, therefore, cannot be loaded into our dumpster rental Towson, MD. These items include oil or paint cans, antifreeze, gasoline, motor oils, natural gas, propane, batteries, firearms, explosives, grease or food waste, or medical waste. If you're not certain if what you're loading is qualified as hazardous, feel free to get in touch with our team to go over your options. Additional fees will incur if hazardous materials are loaded into our containers. Items that cost an additional fee to be hauled include mattresses, box springs, tires, ovens, refrigerators, and appliances.

3) How do I book a roll off container rental with your company?

Booking with the team at 86Dumpster is smooth sailing! There are two convenient options for renting a container: giving us a call at (443) 671-1850 or using our online scheduling tool to book your container online. We're confident that our Towson dumpster rental prices and selections will inspire you to book a rental with us today!

We're here to help with every step of the Towson dumpster rental process, so feel free to reach out to us through our website or by giving our team a call to learn more about our experience, services, and selections. Let us handle the heavy lifting of waste disposal so you can focus on taking back your space, completing your home addition project, or making your business an enjoyable place to visit or work.
Delivering Towson Dumpsters to Surrounding Areas
We're proud to do our part in keeping our communities clean and waste-free by providing Towson dumpsters across Baltimore County and surrounding areas. We understand the importance of keeping our city looking its best which is why we strive to offer accessible services to residential neighborhoods, local businesses, and Baltimore County Public Schools to keep our public and private spaces enjoyable places to visit and spend time in.

We're happy to offer delivery to the 21093, 21204, 21209, 21210, 21212, 21239, 21252, and 21286 zip codes in the area. We also service Parkville, Dundalk, Essex, Middle River, and Bel Air with our Towson City dumpster rental selections. If you don't see your city or zip code listed, give us a call at (443) 671-1850 to see if we can make special arrangements to bring our top-rated Towson dumpsters to your area.
Positive Reviews for our Dumpster Rental Towson Maryland Customers Trust
Book a dumpster rental Towson Maryland customers rate 5-stars across the board! We take great pride in earning the repeated support and ongoing trust of hundreds of amazing customers, ranging from residential single-room remodels to large-scale construction projects and every job in between. Whatever your needs are for reliable container services, our knowledgeable team is here to help guide you through the process each step of the way.

But don't take our word for it! Take a look at what our previous satisfied customers have to say about their experience when they rent a roll off dumpster Towson trusts to help them get the job done right the first time. Read a handful of our positive testimonials below and book your rental online today!
What to See and Do in Towson, MD
Serving the heart of Towson, MD, 86 Dumpster is dedicated to providing exceptional waste management solutions for your diverse needs. With our commitment to timely, cost-effective, and eco-friendly services, we stand ready to assist you in everything from a simple home clean-out to extensive construction projects.

Based in the vibrant community of Towson, we are more than just a service provider; we are an integral part of the area's rich tapestry. Towson boasts a dynamic blend of cultural, recreational, and historical attractions, creating a lively locale that never fails to delight residents and visitors alike.

Towson's parks provide residents with refreshing green spaces for outdoor enjoyment. Explore the trails of Cromwell Valley Park or soak in the serenity of Lake Roland Nature Council. These natural havens are a testament to Towson's beauty, and we at 86 Dumpster are passionate about keeping them clean and pristine.


Towson's Ongoing History and Recognizable Landmarks
Towson's history is alive and well-preserved within its community. From its beginnings as a rural farming community to the thriving economic hub it is today, the spirit of growth and prosperity is palpable. At 86 Dumpster, we share this drive toward progress while maintaining respect for our past.

The landmarks in Towson add to its unique character and charm. The historic Hampton National Historic Site, with its stunning mansion and gardens, offers a fascinating glimpse into the past. The Asian Arts & Culture Center at Towson University, another notable landmark, promotes understanding of Asian arts and cultures.


The Food and Faith of Townson, Maryland
Towson's dining scene is as diverse as its population. Sample the exquisite French cuisine at Café Troia, or indulge in the famous crab cakes at the Costas Inn. Or, for a casual dining experience, visit Towson Diner, a local favorite serving comfort food at its best.

Education and faith form the core of Towson's community, with esteemed schools like Towson University and Towson High School cultivating generations of scholars. The community's spiritual needs are nurtured at places of worship such as the Trinity Episcopal Church and Immaculate Conception Church, fostering an atmosphere of unity and peace.

At 86 Dumpster, our commitment to Towson extends beyond just waste management. We are devoted to maintaining the cleanliness and beauty of our surroundings, reflecting the same care and passion evident in every corner of Towson. Choose 86 Dumpster for waste management solutions that truly care for Towson. Together, let's keep Towson beautiful, one dumpster at a time.